46' 1980 Reinke Hydra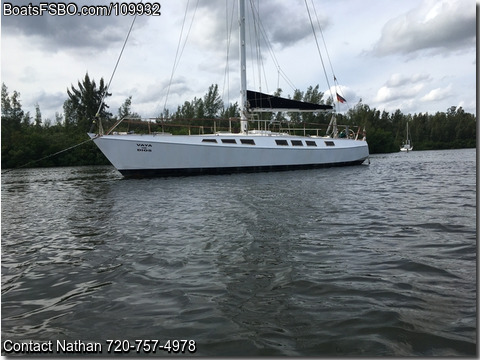 CLOSE
Boat is located in: Vero Beach, Florida

Reinke Hydra 46' for sale.

Steel monohull.

This boat is livaboard ready having been recently renovated into an open concept interior with spacious wooden countertops, abundant storage, built in bar and seating.

There are two berths and a bathroom built as a wetroom to include a shower.

The best thing about this sailboat is its open-concept which makes the boat feel very roomy.

The German design is easy to work with, with all of the components right at your fingertips making it easy to add or change as you wish.

My wife and I have had to move to California for work and are not able to take the boat with us from Florida.

The steel is in great condition with new interior last six months and exterior last year paint.

The interior includes butcher-block countertops, teak panelling, built-in bookcase, built-in bar, stainless steel double sink, Katadyn PowerSurvivor 40e watermaker, Rinnai water heater not hooked up yet, 20 gallon fresh water storage, 25 gallon black water tank, Jabsco toilet, and loads of storage space.

The engine is in great condition.

It has a new starter and a clean fuel system.

There is a spare alternator included.

The Borg-Warner direct drive transmission has just been rebuilt.

There is an additional Borg Warner transmission included on the boat that needs to be rebuilt if you want to use it as a spare back up transmission.

There is a 140 gallon diesel tank that is clean and in good condition.

The electric system includes four 100w solar panels and a 400w wind turbine.

Charge controller and 3000w Engergizer inverter allows for both DC and AC power.

Four deep cycle batteries for the battery bank and a separate starter battery all less than a year old.

There is a Garmin GPS set up on the boat as well as the VHF and depth sounder.

The Garmin is an echoMAP Chirp 54cv.

It includes the map for Southeast Florida and Bahamas.

There is also an Engl fridge/freeze in good working condition.

The jib was recently repaired and is in good condition.

The furler works well.

The main sail is in good shape.

My wife and I just returned from the Bahamas and we got great use out of the sails.

There is a spare jib on the boat as well.

Loads of extra rope and rigging.

A 10' Zodiac dinghy with a 1985 Yamaha 2-stroke 6 hp engine and a new Honda 4-stroke 2.3 hp engine is included with the sailboat.

The Zodiac has no leaks and has a fiberglass hardbottom.

The 4 stroke works very well but doesn't have a lot of power.

The 2-stroke has plenty of power to get up on step, but it needs some work.